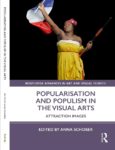 https://www.routledge.com/Popularisation-and-Populism-in-the-Visual-Arts-Attraction-Images-1st/Schober/p/book/9781138605886
27 – 28  June 2019, Workshop Images as Agents in Digital Public Spheres. 3rd International Workshop on Visual Research for Doctoral Students,organised in cooperation with the International Sociological Association's Research Committee/ RC 57 Visual Sociology, Klagenfurt University.
 1 April 2019 – Muenster University, lecture Kalkuliertes Eingreifen in den öffentlichen Raum. Über zeitgenössische Aneignungen avantgardistischer Praktiken, at the conference Öffentlichkeiten und Debattenkulturen in ihrer wechselseitigen Konstituierung: Beiträge aus den Geistes- und Sozialwissenschaften (organised by smartNETWORK international der WWU Münster,  01.04.2019 – 02.04.2019)
11 October 2018 – Copenhagen University, Visual Social Sciences Keynote lecture, PhD Course Visual Social Sciences and Digital Media Politics, Particular faces with universal appeal: an iconography of "everybody"
8 June 2018 – AAU Klagenfurt, Workshop "Situated Cinemas: Films and their Screening as Agents of Contemporary Participatory Democracy", Introduction: Culture, Cinema and Contemporary Participatory Democracy
12 February 2018 –  EHESS (École des Hautes Études en Sciences Sociales), Paris, lecture A  political iconography of everybody: figurations of the longue durée and postmodern appropriations
17 November 2017 – FH Joanneum Graz, Department for Media and Design, lecture

Visuelle Kultur und Aspekte der Visual Culture Studies
13 January 2017 Alpen Adria University Klagenfurt, p

aper Politische Clowns: Zeitgenössische Selbstkultur und das Verbreiten von Begehren und Ressentiment (with Andrea Hrastnik), Tag der Forschung Visuelle Kultur

1 April 2017 Plymouth University/UK

, keynote On Tramps and Taxi Drivers: Particular Faces, Universal Appeal and Commited Audiences, Future Imperfect Symposium 2017

12 June 2017 – Alpen Adria University Klagenfurt, inauguration lecture  Bildereignisse und Bilderketten. Mimesis und Konversion in mediatisierten, demokratischen Gesellschaften
17 June 2017 – Ljubljana University

, p

aper Facing Everybody: Political Popularisation in post-universalist Times at the Ceecom- conference 2017 Critique of/at/on periphery?
28 June 2017 –

Alpen Adria University Klagenfurt, p
aper

En

thusiasmus und Fanatismus: Zum demokratischen Potenzial der Zirkulation von Leidenschaften in Medienverbünden (Internet, TV, Handy, Life-Auftritte) at the Workshop Der Mensch im Digitalen Zeitalter